Sustainable U,  piloted in Spring 2014, criss-crosses the UW–Madison campus with twenty levels of place-based and experiential activities and simulations to showcase underlying systems of sustainability across the four themes outlined on the We Conserve initiative: water, energy, materials, and transportation.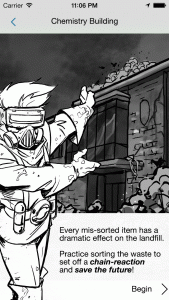 Recognizing the potential of Waste Eliminators, the UW–Madison Office of Sustainability awarded Cathy Middlecamp and MLI a Sustainability Innovation in Research and Education (SIRE) grant to develop and redesign Waste Eliminators into a game for the campus and general public.
In the two-hour class experience, each location focuses on one or two themes, and builds on prior ones. Several "mini-games" allow players the opportunity to test their understanding of sustainable systems. For example, after they see some of the variety of waste and recycling receptacles on campus, they can try their hand in a trash sorting game — What does it take to have a recycling program on campus? What does one do with the greasy pizza box?
Iterations
Based on the evaluative data from the pilot in Dr. Middlecamp's class, the game is being refined and expanded. In Fall of 2014, MLI will release a mobile game experience aimed at the general campus population and visitors to campus! In the expanded game, people will be able to spend as much or little time as they have exploring the UW–Madison campus from the perspective of Environmental Sustainability. After that experience, they will see the rest of the world with "a new set of eyes."