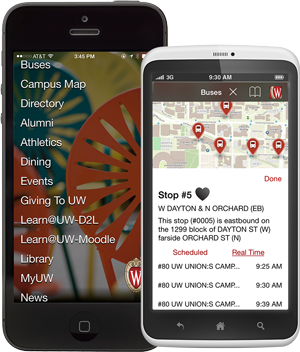 Introducing the new Wisconsin app!
The university's official mobile app has undergone such a major update that it comes with a new name. "Mobile UW" is now the "Wisconsin" app, featuring a sharp interface and handful of new options. Update or install via the Apple App Store or Google Play Store.
We want to hear from you. What do you want to be able to do on your mobile device? Send your ideas, feedback and questions via email, or find us on Facebook and Twitter!
Apple and Google Developer Resources
Access to Apple and Google app development and deployment resources is provided to UW—Madison departments and units free of charge.
Mobile UW News
The Mobile Learning Lab at WID in partnership with the Nelson Institute and DoIT Academic Technology is excited to announce a gathering of administrators, educators, scientists, humanists, education theorists, and technology developers that will offer stories and tools to inspire Learning Outside. We are inviting fellow educators and big thinkers at UW-Madison to come and … Read More
Sustainable U gives YOU a chance to save the future! Inspired by retro arcade mechanics and over-the-top apocalyptic style, this collection of mini-games challenge the player to influence key moments in the present that will avalanche into huge effects on the future. Produced by the Field Day Lab and Nelson … Read More
Built for a 120-student Environmental Sciences class with funding from a Situated Learning award and with support from the Office of Sustainability, Waste Eliminators is a multi-role tour of seven buildings on campus conveying elements and examples of six aspects of Sustainability (Carbon footprint, Human health, LEED certification, Water, Waste, and Ecology). It … Read More