Funded by the same SITI initiative that produced the mobile UW app, the Mobile Learning Incubator (MLI) was founded to explore and advance issues and conversation about mobile learning among the various teaching and learning groups on campus.
MLI is a team of instructional designers, researchers, developers and producers who work in DoIT Academic Technology. Our goal is to partner with faculty to implement mobile learning initiatives driven by Learning Sciences theories and literature to rapidly pilot innovative learning apps and activities, research their use and effectiveness, then seek additional funding to sustain the most promising projects and themes.
Read more about how the Mobile Learning Incubator works
Projects
Based on previous pilots and projects done with the ENGAGE program and collaborations with the School of Education, the Mobile Learning Incubator is exploring three primary themes: (1) Learning Through Field Research, (2) Learning Through Design, and (3) Games and Learning.
Theme: Learning through Field Research
We are currently collaborating with educators in a variety of fields across campus to develop a generalized game-enhanced, field research platform. At present, we envision this as a web-based platform to which anyone can import their data, activity structure and quickly and inexpensively create their own field research/identification tool.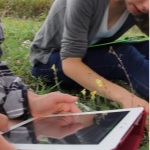 BioCore — working with Seth McGee in BioCore during Fall 2013, MLI empirically investigated how mobile devices effect novice learners' plant identification process compared to traditional field guide methods. For this study, we developed a plant identification mobile app, which quickly filters down to potential matches based on choosing a few simple plant attributes. We found that students using this app were significantly more efficient and more accurate in the plant identification activity than their counterparts using field guides. By leveraging human skills at visual pattern recognition, and computing's ability to sort and filter, this work will be foundational in developing a more general field research tool where any faculty or student can quickly and inexpensively create their own tool.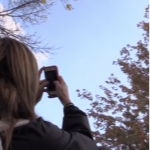 Ornithology — working with Mark Berres in Animal Science/Zoology during Fall 2013, MLI investigated the effectiveness of integrating game mechanics (e.g. quests and leaderboards) into a field research activity. We worked with students as co-researchers to fine tune the design structure and technical performance of a bird identification app, WeBIRD, that lets them document sightings, record bird calls, take photos and videos and share all this their instructor and teammates. At present, we are iterating on the app based on findings from this pilot study with a more formal study using WeBIRD to empirically examine how game mechanics influence learners' accuracy and participation in birding. We hope to share results from this study in Fall of 2014.
Folklore — working with Tim Frandy, Ruth Olson, Tom Dubois, and others, MLI maintains an ongoing partnership with UW–Madison Folkorists, sparked by the 2011 Teaching Academy Summer Institute, to redesign the popular Folklore 100 class using ARIS. As part of this endeavor, for example, 80 Folklore 100 students spent three weeks in Fall 2012 using the ARIS platform in a quest-driven, crowd-sourced field research activity documenting and sharing photographic, audio, and video examples of Folklore concepts on campus and in the surrounding community. Through this exploration, we are establishing mobile technologies as a viable option for students to create final projects that showcase their understanding of course concepts.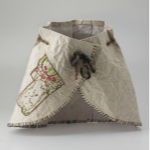 Fibers — working with Mary Hark in Design Studies during Fall 2012, consultants in MLI and Academic Technology created a quick quest-driven framework activity with the ARIS platform for Fiber Arts students to take to a restored prairie in Rock County. There they investigated and mapped out native plants in their natural environment. That experience provided a foundational experience that the students revisited as they created fiber art with the plants from that prairie. The activity also highlighted that device form factor matters. Students wanted to interact with the plants that they were documenting but couldn't easily stash the iPads away to free up their hands to do so. A smaller, pocketable form factor would have gone a long way.
Theme: Learning through Design
Through ongoing partnerships with educators, MLI is working to understand the process by which learners design their own game/narrative/place-based projects with the goal of developing a reliable reservoir of resources to equip classrooms on campus and beyond.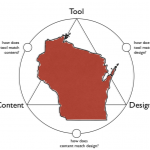 Stories, Maps, Media: Designing Wisconsin Experiences — working with Jon McKenzie in English during Fall 2013, MLI continued its exploration into how mobile technologies propel design-based learning activities. Through a five-week process centered on the Wisconsin Experience at UW–Madison, students researched historical primary sources to develop and designed a narrative-based mobile experience. Our findings for this project are coming Spring 2014! We are excited to announce that we are extending our partnership with Jon McKenzie into Spring 2014 and share our findings in Summer 2014.
Digital Media and Literacy — working with Erica Halverson in Curriculum & Instruction during Spring 2013, MLI launched its first iteration of exploring how mobile technologies propel design-based learning activities. As part of a six-week project focused on building and understanding digital media literacies, students designed and developed their own mobile experience. Our findings from this study highlighted the need to scaffold technical support throughout the design process and the value of connecting learners to local and global communities of practice. As a pilot study, we learned a great deal about learning through design with mobile.
Theme: Games and Learning
As interest rises on campus to explore the value of games-based learning experiences, MLI continues to work with faculty to build mobile educational games that suit specific learning goals and campus-wide needs.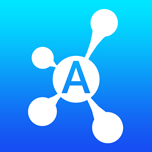 Atom Touch — Working with molecular dynamics simulation expert Dane Morgan, UW MRSEC education director Ann Lynn Gillian-Daniel and with the support of a MRSEC seed grant, MLI developed interactive 3-D simulation of molecular dynamics for mobile devices. The simulation was developed to help students understand the structures and attributes of particles at the molecular level, providing real-time feedback and responding to student's actions.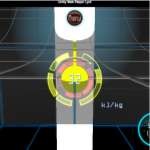 Thermogame — working with John Pfotenhauer in Engineering, MLI has been developing a game for students to learn how thermodynamic concepts relate to each other. In Thermogame, the thermodynamic states of water are represented as a three-dimensional landscape in a minimalist abstract universe. In this world, players solve thermodynamic puzzles by propelling a yellow ball to a goal using as few moves as possible. To move the ball, players need to determine how much energy to add in the form of heat or work while constraining on one variable. Through repeated experimentation and manipulation of the heat and work variables, students quickly get a better sense of some of the systems in play within thermodynamics.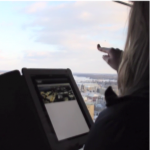 Waste Eliminators — working with Cathy Middlecamp and two graduate students in the Nelson Institute, MLI developed an ARIS-based mobile campus tour to highlight issues and solutions in Sustainability for the Environmental Sciences 126 class. In February of 2013, ~ 120 undergraduate students broke up into teams of three during a two-hour lab class, and solved Sustainability puzzles in six buildings that represented the diversity of issues and solutions in play at UW–Madison. Evaluative data from the project indicated general student support, and an understanding of many of the issues. It also highlighted technical issues revolving around wireless access and GPS reliability, and provided solid experience to MLI in conducting large-scale pedagogical interventions involving university-owned iPads.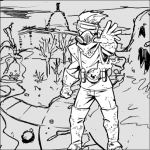 Sustainable U— recognizing the potential of Waste Eliminators, the UW–Madison Office of Sustainability awarded Cathy Middlecamp and MLI a Sustainability Innovation in Research and Education (SIRE) grant to develop and redesign Waste Eliminators into a game for the campus and general public.Sustainable U, piloted in Spring 2014, criss-crosses the UW–Madison campus with twenty levels of place-based and experiential activities and simulations to showcase underlying systems of sustainability across the four themes outline on the We Conserve initiative: water, energy, materials, and transportation.
Platforms
Scalability and sustainability are at the core of MLI projects. As such, we avoid "one-off" projects that require constant, expensive, revisions and maintenance. Instead, our model is to build off the the successful open-source, community-supported ARIS project — we build flexible environments that can serve multiple purposes across a variety of disciplines. This expands the base of support as any and all new work also helps maintain and sustain the underlying platforms.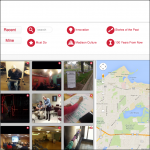 Siftr — working with the 2013 Year of Innovation committee to create an interactive and crowd-sourced campus map that showcases innovation and culture at UW–Madison. Users can create short notes that include a title, description, image, and audio clip, on the themes of Innovation, Stories of the Past, Must Do, Madison Culture, and 100 Years From Now. In addition to being a cool tool for the campus community to share their own perspective of campus along, Siftr offers social elements such as commenting, favoriting, and searching. Siftr was built both as an iOS app and as a web app, allowing anyone with a mobile browser — or even those with a tethered desktop — to participate.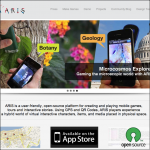 ARIS — initially created as a class project for graduate-level work in Games & Learning, ARIS (Augmented Reality Interactive Storytelling) was seeded with a MacArthur grant and developed by David Gagnon with support from administration and colleagues at DoIT Academic Technology. Five years later, ARIS has developed into a popular Constructionist tool used by nearly 20,000  — with over 8000 place-based activities created by over 6600 educators, museums, and individuals across the globe. Its primary uses are for presenting location-based information, and as a simple-to-use design-based learning tool.
Campus and National Impact
MLI co-investigates projects with faculty through a deeply collaborative service approach. As such, MLI works within a rich ecosystem of methods, prototypes and tools for mobile learning. By creating reusable tools, research and pilot data that inspire ideas and collaboration around mobile technology for blended learning, it provides an easy entry point for faculty interested in producing a mobile learning project. Working with partners across campus and beyond, MLI amplifies returns on investment through projects that attract additional funding and garner national recognition for UW—Madison, as an innovator in mobile learning. MLI designers are active participants both in academic education communities (AERA, GLS, CSCL, JLS, Games and Culture, etc.) as well as communities of practice in higher education (Educause, SLOAN, etc.). MLI staff regularly present at conferences, publish, and conduct learning groups around effective education practice and technology.
Representative Publications & Presentations
Martin, J., Dikkers, S., Squire, K., & Gagnon, D. (2014). Participatory Scaling Through Augmented Reality Learning Through Local Games. TechTrends,58(1), 35-41.
Holden, C., Gagnon, D., Litts, B., & Smith, G. (2014). ARIS: An open platform for distributed mobile learning innovation. In M. Mendes, Technology Platform Innovations and Forthcoming Trends in Ubiquitous Learning (pp.19-34). Hershey, PA: IGI Global.
Gagnon, D. (2013). Keynote Address: Gaming Technology and the Future of Education. Teaching Enhancement Symposium: Gainesville, FL.
Litts, B., Smith, G., Gagnon, D., Martin, J., Mathews, J. (2013). Situated learning and mobile technologies: Connecting theory to design. Games+Learning+Society Conference 9.0: Madison, WI.
Martin, J., & Gagnon, D. (2012). Mobile Computing: Intersections of Life, Education and Media. Teaching with Technology Institute: Northern Illinois University.
Gagnon, D. (2010). Mobile Learning Environments. Educause Quarterly, 33(1).
Check out our complete list of publications and presentations.