Learning Through Design Project: Digital Litercies
In Spring 2013, Dr. Erica Halverson and T.J. Kalaitzidis piloted a collaborative design-based curriculum in their Digital Media and Literacies course. This course was structured with a one-hour graduate section, a one-hour undergraduate section, and two-hour combined workshop section all happening back-to-back. They chose to use the ARIS platform (arisgames.org) and allow the class to design mobile, place-based activities that reflected local learning of topics important to the students.

"We didn't have them take tests, we had them take on the role and discourse of designers"
Goals
The goals of the course were to:
analyze and evaluate how digital mediums have changed notions of learning and literacy
understand affordances and constraints of digital mediums for representation, and apply those understandings in creating digital artifacts
be able to make appropriate design decisions and critically reflect upon the creative process and product
learn to work in deep collaboration with colleagues to achieve and advance productive ends
MLI was excited to get involved because the course itself was about exploring affordances and constraints of different media, and drew heavily from theories of participatory cultures (Jenkins et al., 2007) and communities of practice (Wenger, 1998), which align with the conceptual frames that support our goals. The course offered a unique space to test and evaluate technology-enhanced learning methods.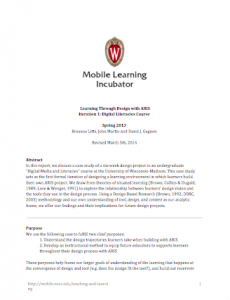 Key Lessons
reconcile student design visions with the affordances of the tool early in the process
prototype with non-digital media
provide technical training when needed for just-in-time learning
perform small warm-up design activities
leverage the many communities students have access to: each other, local technical support, the ARIS online communities, etc.
Team
Erica Halverson: Faculty Member
T. J. Kalaitzidis: Teaching Assistant, co-researcher
David J. Gagnon: Activity Design, Guest Facilitator, Research Design
Breanne Litts: Activity Design, Guest Facilitator, Research Lead
John Martin: Activity Design, Guest Facilitator, Research Design
Phil Dougherty: Guest Facilitator
Shelby Copeland: Videography
Al Barnicle: Activity Design
Marcus Moreno: Student Technical Trainer